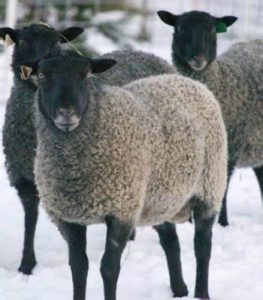 Gotland sheep with the characteristic fleece in shades of dark to light grey. The lambs are born black but grudually changes to grey. The color of the fleece even varies from year to year, depending on the grass the sheep graze on. The curls are clearly defined and very soft to the touch.
Gotland wool is truly unique with it's special silvery shine. It is one of the most lustrous and silky fibres in the world. It becomes softer with each wash and becomes a softness almost like mohair wool.
The hand loomed sweaters come in two shades of grey, a darker and a lighter version.
Coming Fall 2022
T-Neck Sweater
Pure Undyed Sweedish Gotland Wool
Hand loomed in Sweeden
Medium Grey
Article number KN 150 MG
Dark Grey
Article number KN 150 DG
Suggested retail price € 300