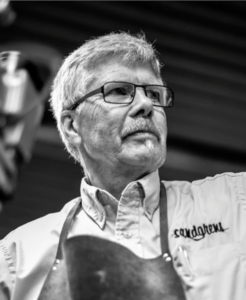 Christer Karlsson – The skilled swedish Clog Master of RIKKE FALKOW Clogs.
RIKKE FALKOW Clogs are made of vegetable tanned leather. The leather does not contain synthetic coatings, making this the purest and most eco-friendly form of tanned leather.
When used the leather will soften and over time it will develop a beautiful and unique patina. The natural color will darken slightly into a warm hue. This is a sign of quality and the natural processes used to make it, and it adds character and personality to your clogs!